BLOCK 1
Three different types of wine producing grapes are growing and producing in Block1 of the vineyard. These grapes are a direct grafting of the world famous Double A Vineyard producing grapes out of Fredonia, New York.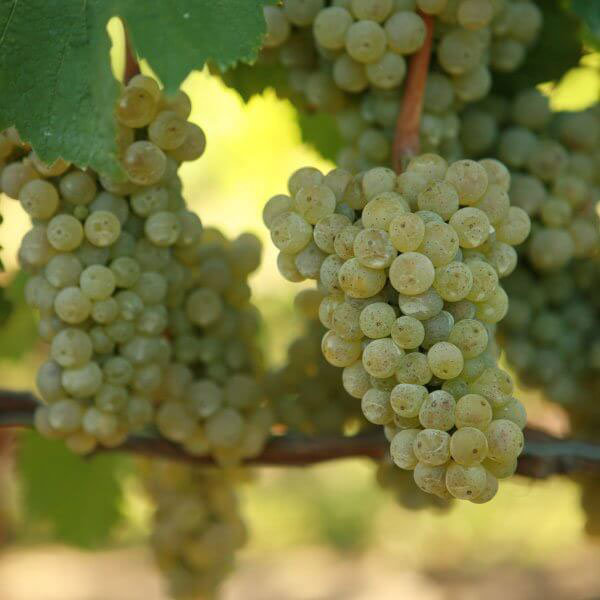 Riesling
According to Double A Vineyard owner and expert Dennis Rak, "Riesling is a late maturing, moderately vigorous white vinifera that produces grapes of exceptional wine quality. Wines range from dry to very sweet with a powerful floral and apple-like aroma. Riesling pairs well with spicy foods."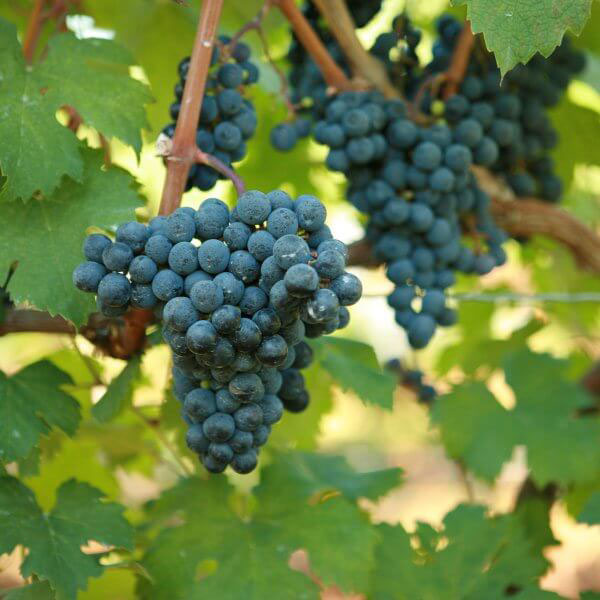 Cabernet Franc
Cabernet Franc produces blue-black berries and is one of the more winter hardy vinifera varieties. It produces a very aromatic red wine that is softer than the wines of Cabernet Sauvignon.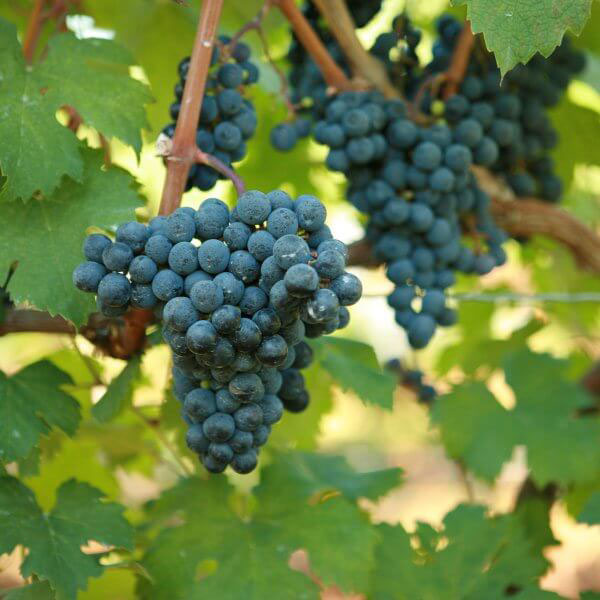 Lemberger
Lemberger, also known as Blaufränkisch, originated in the German-Czechoslovak region. It thrives in a warm climate and protected sites and does well in various soil types. Makes wines ranging from light and fruity to those rich in extract and tannin. The wines usually have extremely dark color. The light fruity wines are ideal with cheese and Summer BBQ foods. More tannic Lembergers pair well with pate, grilled foods, and a range of roasted game.
BLOCK 2
Four different types of wine producing grapes are growing and producing in Block2 of the vineyard. These grapes are a direct grafting of the world famous Double A Vineyard producing grapes out of Fredonia, New York.
Tannat
Tannat is a blue-black grape that has small berries, large clusters, and ripens late season. This variety is thought to have originated in the Pyrenean area of southwest France. It has late bud break.
Tannat produces wines that are deeply colored, perfumed, and have rich, firm tannins and a high alcohol content. Varietal descriptors include black cherry, plum, tobacco, and chocolate. It is also used as the base for a French brandy- Armagnac.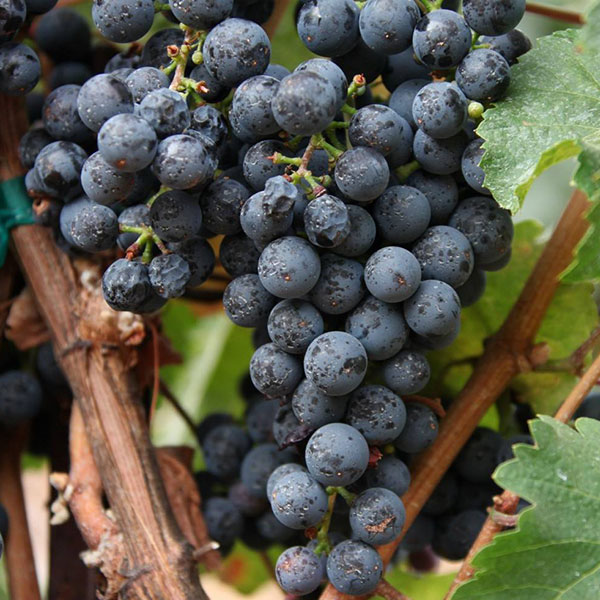 MALBEC
Malbec is a thin skinned blue-purple grape used in making red wine. It ripens mid-season, producing grapes that are inky and dark in color. When ripe, it adds color, tannin and spicy characteristics to the wine, producing deep colored, rich wines with freshness, balanced acidity, lush, round, supple textures and flavors of plum and blackberry.
Malbec is perfect with grilled or barbecued meats and sausage. Due to its rich, supple textures and spicy personality, match Malbec with beef, veal, chicken, pork, sausage, braised or stewed dishes, spicy cuisine, cured meats and dry cheeses.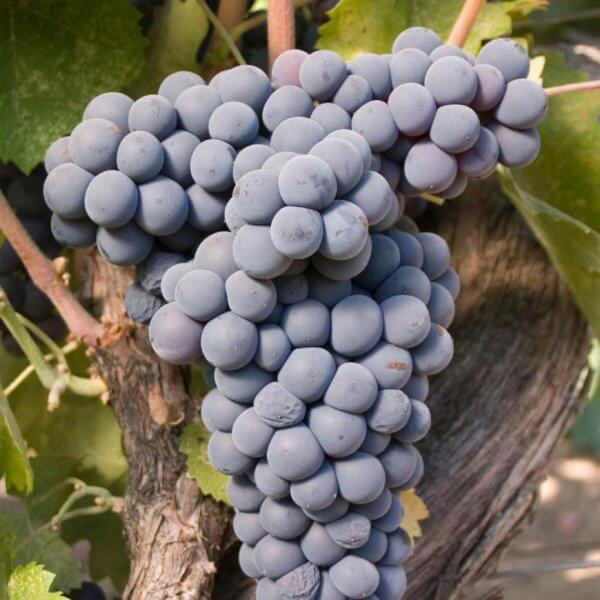 mouvedre
Mourvedre originated in Spain, aka Monastrell or Mataro. It has a dark garnet red-to-deep purple color that looks deep and thick and murky. It has a strong, gamy barnyard aroma as well as the rich, luscious scent of dark berry jam. Lots of dark fruit with just a touch of sweetness.
Mourvedre is perfect with a roasted chicken slathered with butter mixed with salt, pepper and a whole lot of herbs –rosemary, sage, and especially thyme. The savoriness of the chicken is going to match up really nicely with the earthiness of Mourvedre, but the sweeter fruit will bring out the richness in the food and cut through the salt from the skin, butter, and/or bacon.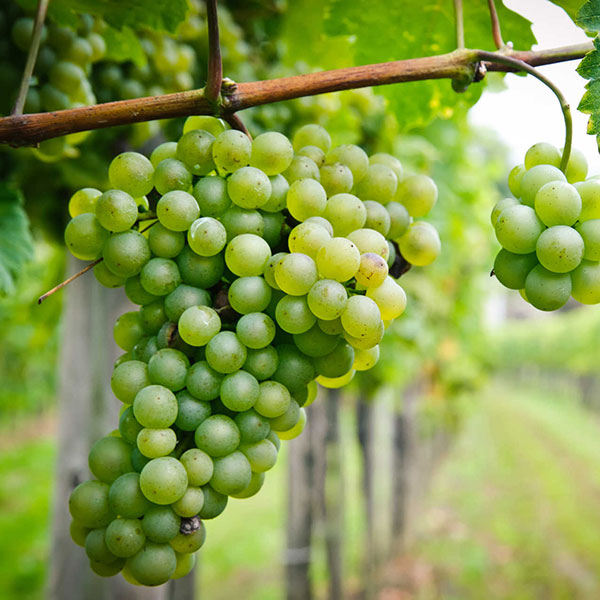 picpoul blanc
Picpoul Blanc (also known as Piquepoul or Piquepoul Blanc in France) is best known as the crisp light green wines of the Pinet Region in the Coteaux de Languedoc. Literally translating to "lip stinger", it is known for its bright acidity, its minerality, and a clean lemony flavor.
Picpoul Blanc pairs in food matches featuring strong flavored sea food dishes like salmon, swordfish, scallops, clams, oysters and rich cream or butter sauces.
BLOCK 3
Nebbiolo is the eighth and final varietal to join High Lonesome Vineyard in the Block 3 section of the vineyard.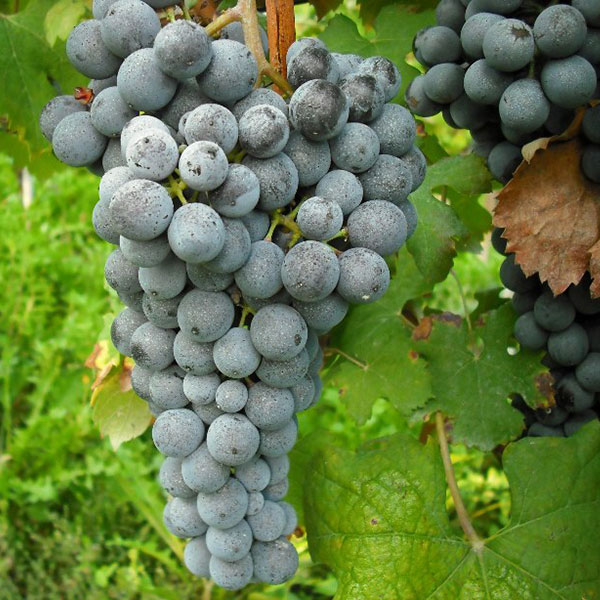 nebbiolo
Nebbiolo produces lightly-colored red wines which can be highly tannic in youth with scents of tar and roses. As they age, the wines take on a characteristic brick-orange hue at the rim of the glass and mature to reveal other aromas and flavors such as violets, tar, wild herbs, cherries, raspberries, truffles, tobacco, and prunes. Nebbiolo wines can require years of aging to balance the tannins with other characteristics.